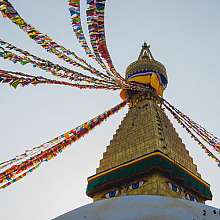 Foundations For Freedom-The Hinayana: the Wheel of Life, Karma, and the 12 Nidanas
This third course in the series Foundations for Freedom-The Hinayana, is an in-depth exploration of the Wheel of Life, Karma, and the 12 Nidanas.
There are no prerequisites for this class. It will consist of recorded online talks by two of Shambhala's most senior teachers, Acharya Judith Simmer-Brown and Loden Niyma, hosted locally by Megan Murphy and Mike Ratener.
The foundational teachings of the Buddha indicate that the suffering we experience in our lives can come to cessation if we recognize, deeply and profoundly, how that suffering has arisen. This requires gentle bravery and deep contemplation, bypassing simplistic notions of what causes our suffering and how it arises.
The Buddha provided powerful models for this contemplation through the interrelated teachings of karma and kleśa, or destructive emotions, as exemplified in the Wheel of Life. Drawing from the contemporary insights of our Shambhala Buddhist lineage, we will tread the ancient path of the Buddha.