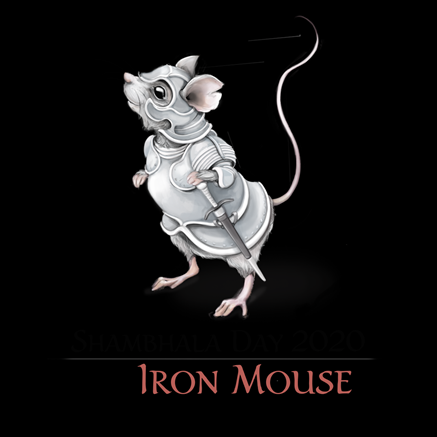 Shambhala Day
Shambhala Day marks the beginning of the New Year, and represents one of the most important traditions of Shambhala Buddhism. Based on the traditional Tibetan New Year's celebration of Losar, the day is calculated astrologically according to the Tibetan lunar calendar, and changes every year to coincide with the annual lunar cycles.
This year Shambhala Day is on Monday, February 24, 2020. Everyone is welcome to gather at the Center to participate in the live broadcast beginning at 10:00am. The broadcast program this year will include joining together in worldwide group practice, and sharing Shambhala culture, and greetings from throughout our worldwide community.
On Sunday, March 1, we will gather as a community to engage in conversation and celebrate the new year. All are welcome. It is important to gather as a sangha for the New Year to feel what brings us together and keep us together as a community. We've all been through an incredibly challenging time, personally and as a sangha. It feels important to recognize that many of us are in different places with our feelings about Shambhala, practice, and the Sakyong. It is our hope that we can be there for each other, amidst these differences, to practice, and be in community together.
We'll share more details as they come together, and we hope to see many of you on February 24 and March 1, 2020.