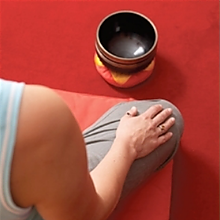 Shambhala Path of Warriorship Weekend I: Beginning and Beginning Again
with Shastri Manuel Medeiros, Elvia Garcia, Jean Kerins, Sloane DellOrto
Many of us today are disheartened by the hostility, fear, extreme views, and lies that seem to have infected our society. We may feel that our cultural fabric is fraying, that we are betrayed by our leaders, and that institutions we have long counted on are no longer stable. Maybe we find ourselves asking: How do we go forward? Who can we believe? How can we know? We want to do something, but acting out of anger and frustration seems only to perpetuate a culture of negativity.
This uncertainty, and the underlying longing for a good and decent society, is where the Shambhala path of warriorship begins. Trungpa Rinpoche defined warrior as "someone who is brave enough not to give in to the aggression and contradictions that exist in society." Instead, we could "examine our own experience, in order to see what it contains that is of value in helping ourselves and others to uplift their existence." Doing so, we may discover the openness, genuineness, inquisitiveness, bravery, and gentleness that is our very nature. This is the ground from which warriors everywhere and in every time have proceeded to build nurturing and successful societies. It is the daring of first responders in in the face of tragedy, and it is the courage of parenting. It is nearer to us than we dare to believe. It is our birthright as human beings. We call it "basic goodness."
In this time of confusion and chaos, we aspire to gather in retreat as a community, to bring "beginner's mind" to that weapon of warriorship - meditation - in exploring the ground of wisdom that is hidden in full view: the basic goodness of being human.
Please join us for a weekend of hearing, contemplation, and meditation, a weekend of good conversation and fellowship. Those who have previously taken "Level I Shambhala Training" are welcome free of charge.
Manuel Medeiros became a student of Chogyam Trungpa Rinpoche in 1979 and continued as a student of Sakyong Mipham Rinpoche. He has been a Buddhist and Shambhala teacher for many years, and was appointed Shastri (senior teacher) for the Davis Shambhala Center by Sakyong Mipham in 2013. He retired from the California Attorney Generals Office in 2012 and lives in Davis with his wife, Patricia. He is a board member of the Yolo Conflict Resolution Center and is interested in restorative justice initiatives.
Elvia Garcia, Assistant Director
Jean Kerins, Assistant Director
Sloane Dellorto, Coordinator